ADD ON - PADI Rescue Diver Course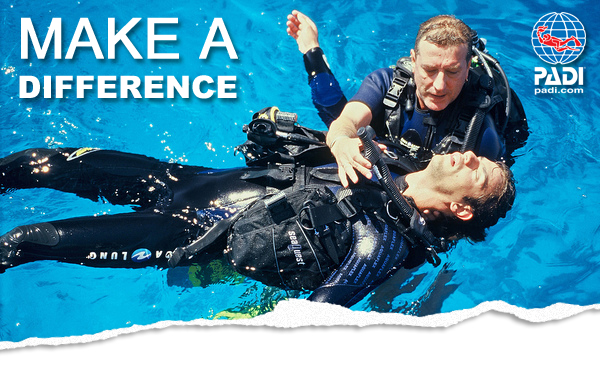 Durata: 2 Giorni (circa)
Luogo: Townsville, Qld
Codice prodotto: RESC
Minimum numbers: 4 students (course/ numbers will be confirmed 48 hours prior to commencement)

Challenging and rewarding is best describe the Rescue Diver course
This course expands on what you already know about how to prevent problems, and teaches you how to manage them if they occur.

The fun part about this course is rising to challenges and mastering them. Most divers find this course both demanding and rewarding, and at the end, say its the best course they have ever taken.

Your focus will start to turn, from yourself and your needs to the safety and needs of your diving companions.

Course prerequisite:
At least 12 years old
Have a PADI Adventure Diver certification or equivalent
Be trained and current for first aid and CPR within the previous two years
Course outline:
Home study – reading and completing Knowledge Reviews in your PADI student manual or E-Learning
One day of pool sessions with your instructor and one day of open water dives and skills practice out on our Day Trip to the Great Barrier Reef
Usually runs once a month - flexible dates can be arranged on request for 2 or more students
Price includes all course materials, pool session and certification costs.

Extra: Day Trip to the Great Barrier Reef from $359AUD,
Extras: First Aid and CPR courses (if required)
YOUR NEXT ADVENTURE:

Here at Adrenalin Dive we are committed to the comfort and safety of divers everywhere. To that end, we recommend the rescue course to ALL recreational divers. It also goes especially well with these specialties: PADI Emergency Oxygen Provider course. Be the buddy everyone wants to dive with by knowing that you know how to recognize illnesses treatable by emergency oxygen. PADI Search & Recovery course will teach you effective ways to find objects underwater and bring them to the surface.
PADI Divemaster course The first step on the professional ladder. Move from being able to take care of others (Rescue Diver) to actively being involved in the educations and guiding of divers.

PADI Master Scuba Diver – The highest non professional rating in recreational diving. The ultimate rating for those who wish to challenge themselves and keep learning.